Porsche Centre Oakville Driver Development Track Day Experience
Driver Development Track Days
Porsche Centre Oakville is again excited to offer our driver development track day experience. Unleash the power of a Porsche in a closed circuit environment. Drivers from all levels are welcome.
Our Driver Development Track Day Experience includes:
A half-day track session in sports cars such as the 911 Carrera, 718 Cayman and 718 Boxster provided by Porsche Centre Oakville

On and off-track instruction by professional Porsche instructors

On-site tech support by Porsche Certified Technicians

Continental breakfast and/or catered lunch
​
Cost:

$695 +HST
Sessions available: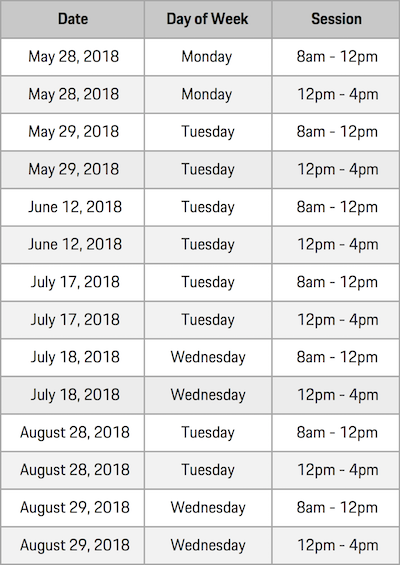 Terms and conditions:

You may purchase multiple sessions. Registration is subject to availability. Invitation is non-transferable. If you are purchasing a session as a gift, please enter the name, address and contact information of the gift recipient in the registration form. Purchased sessions are non-refundable. Each track day will take place rain or shine. Must be 25 years or older with a valid driver's license. Participants will be required to sign a waiver at the track prior to driving.


Location:

Canadian Tire Motorsport Park
3233 Concession Road #10, Clarington, Ontario


Frequently Asked Questions:

I didn't receive my booking confirmation.
If you completed your track day registration and did not receive a booking confirmation email please check your junk or spam folder as some email providers have extra email security.

What are the requirements to participate?
For all track days you must carry a valid driver's license and be a minimum age of 25. To participate in our intermediate track day you must complete our introduction course on the Driver Development track. To participate in our advanced track day you must have experience on the Grand Prix track and participated in an open lapping day.

What vehicles will be provided?
There will be various models of the 911 and Boxster/Cayman lineup, excluding GTX vehicles.

Can I bring spectator or passenger?
Spectators are welcomed to watch while you participate.

What is your cancellation policy?
Purchased sessions on non-refundable.

Do I need a helmet?
A helmet is required only for the advanced driver track days.

What should I wear?
Loose comfortable clothing is suggested, pants are recommended. Closed toe shoes are mandatory with a thin sole.

What is the driver to instructor ratio?
There is one instructor for every three to five vehicles.

Am I driving alone or with a partner?
Every participate will be paired up with a partner. If you attend the event with someone we will ensure you are paired together. If you attend the event alone our team will pair you with a partner.

What time should I arrive to the track?
We suggest arriving to the track 15-20 minutes prior to your start time to allow for a comfortable amount of time to register and ask any questions you may have prior to the session starting.

For more information or assistance please contact a Customer Concierge Representative at 905-825-4530 or concierge@porschecentreoakville.com.



Thank you for purchasing a Driver Development Track Day Experience.



We look forward to welcoming you to the track. You will receive an email reminder prior to your session with additional details.

Should you have any questions please contact a Customer Concierge Representative at 905-825-4530 or concierge@porschecentreoakville.com.

Register for an additional Track Day session.